Making Memories
Haberdashery
From ribbon and wool to keepsake bears. Everything sold is the highest quality, attracting customers from across the county.
Bring out your crafty side.
High quality craft materials, products and goods have become the attraction for customers travelling from across the region.
The ribbon, wool and button range in particular is second to none and new products arrive every month. Melanie is always supplying customers with what they need and adding new items to meet demand.  Baby clothing and handmade items are particularly popular.
Melanie's signature keepsake bears
Before Making Memories stall Melanie was already offering personalised keepsake bears. Demand became so high that these heartwarming bears became a staple product on the stall.
The signature 'keepsake' bears are built using sentimental or meaningful clothing provided by the customer. Everything from football shirts to baby clothes have been brought to that stall and the keepsake bears are made to order. 
These beautiful, creative and sentimental little bears make the perfect gift for a loved one or yourself. 
The personal story behind this much loved stall.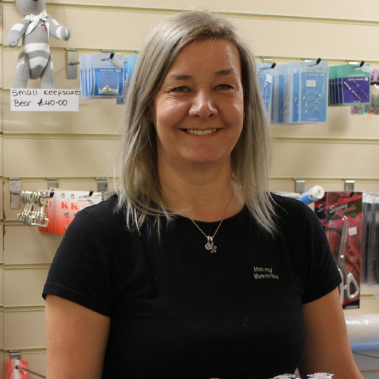 Melanie was inspired to transform her life following the sad passing of her mum who was a big knitter and loved to crochet. Melanie and her mum always struggled to get hold of quality wool, cotton and other items in Darwen and so Melanie decided to leave her career behind and start 'Making Memories Haberdashery'. 
The stall began trading in 2018 and thanks to loyal customers and community support the business quickly expanded to a bigger stall and became a firm favourite of crafters everywhere.