Mothergoose
Cards, Gifts and Balloons
Mon, Wed, Thur, Fri, Sat 8.30am-4pm
Tuesday and Sunday Closed
The biggest range of greetings cards in Darwen!
Something for all occasions
Excellent quality, unique, humorous and heartfelt cards and gifts can be found at this fabulous stall. Julia and Mick are perhaps the happiest, friendliest traders on the market or any market!
They are more than happy to help you select the right card or gift and often help customers by writing out the cards for them.
They specialise in unusual and unique cards including religious cards and always have new and seasonal stock in whether it's gifts for teachers or seasonal occasions like Easter, Valentine's and Christmas. Prices range from £1 upwards with both a great value and luxury range.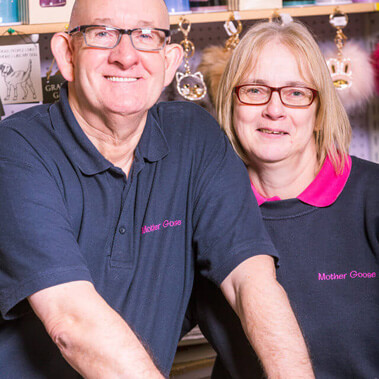 A personal service
Julia and Mick are a husband and wife team specialising in hard to get or unusual greetings cards and heart felt gifts. They provide a first class service helping you pick out the perfect, thoughtful item for your loved one. They even help write the cards for anyone who struggles with their eyesight or writing.
Julia and Mick's favourite stall on the market: Steff's Pets for their fabulous range of pet products and the lamb cutlets from Leemings Butchers!