Traditional sweet shop with a huge range of candies, sweets, fudge and ice cream
Sweet treats for everyone!
An old traditional sweet shop offering fan favourites and new treats. A new range of flavoured fudge, ice cream, slush drinks and candy floss make this stall a popular choice for people young and old.
Mega lollies and pick and mix are the choice for kids whilst cinder toffee, chewing nuts, midget gems and mints popular with everyone. They also have sugar free range of treats!
Fancy some sweets delivered? It's free with a minimum spend of just £5.00 in Darwen perfect if you're ordering party treats!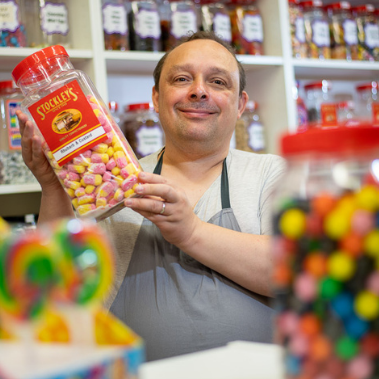 A Sweet Expansion
Candy Rush began offering a wide range of traditional and modern sweets. The boiled sweets in particular proving to be popular. Since then Paul has added a range of flavoured fudge, ice cream and sorbet much to customers delight!
Paul's favourite stall on the market: