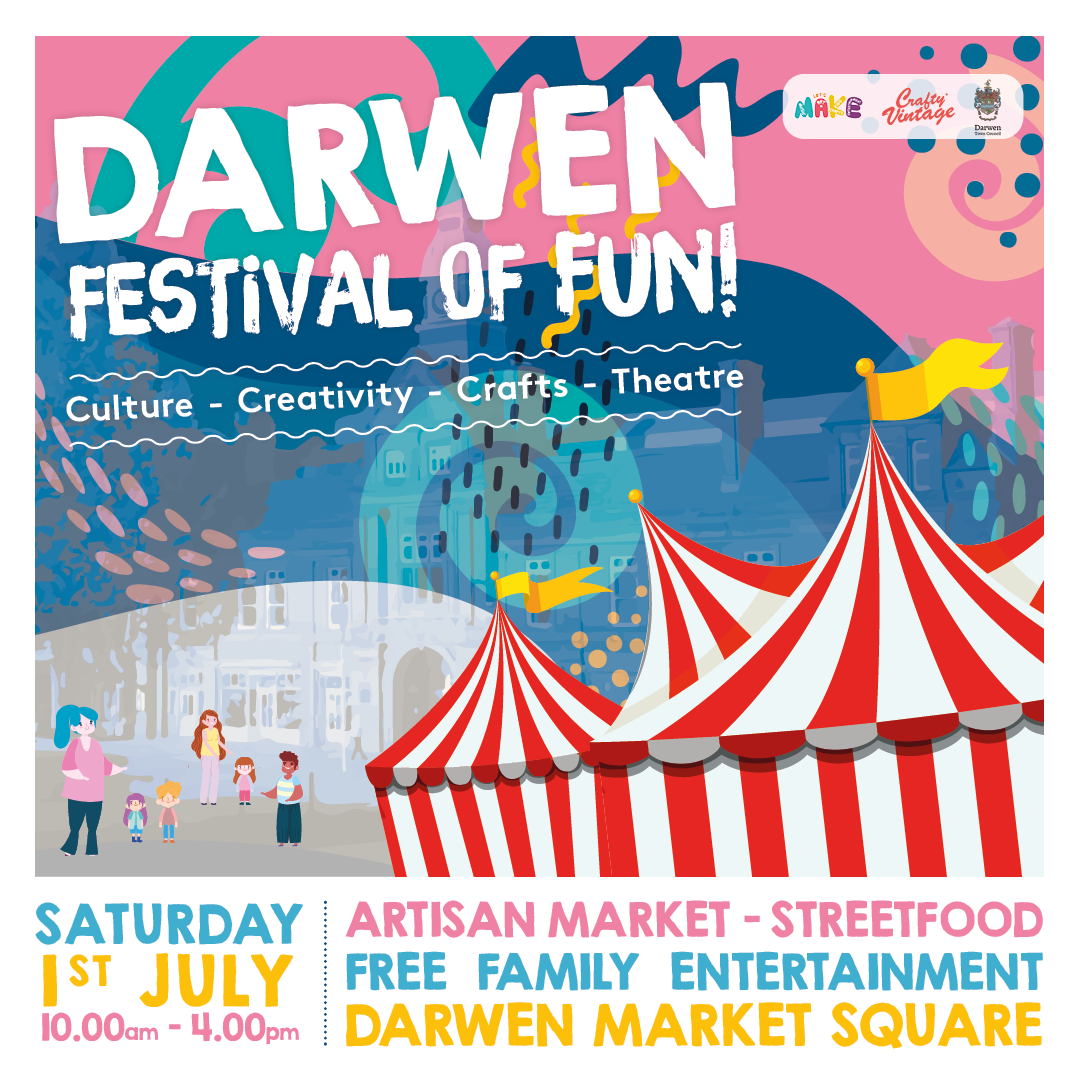 Darwen Festival of Fun & Artisan Market
FESTIVAL OF FUN & ARTISAN MARKET
Culture – Creativity – Crafts – Theatre
Darwen Festival of Fun, now in its third year returns to Darwen on Saturday the 1st of July.
The free entertainment, funded by Darwen Town Council will be a day filled with family fun, laughter and lots of merriment.
Immersive roving theatre, stilt walkers, huge giant bubbles, plus a drumming band and ukulele sessions will take centre stage on Darwen Market Square and bring together local families and visitors from afar to enjoy.
The Artisan Market filled to the brim with makers and creators, plus street food and a vintage bar will certainly add to this wonderful occasion.
ROLL CALL FOR THE LINE UP……….. back by popular demand
IAN DOUGLAS  – THE STORYTELLER
Ian Douglas is a Storyteller and Theatre Maker who works extensively across the British Isles. With over 20 years of experience delivering storytelling, performance and theatre activities for schools, arts organisations, communities and festivals across Britain, he has developed a practise approach which mixes sensitivity, comedic energy and wit leading to a style all of his own.
The origins of Ian's work are steeped in the traditions of street theatre which has helped him develop his unique storytelling style. His work has been described as 'truly inspirational' and draws upon a rich vein of British folk tales and world myths.
Whether telling stories to hundreds or to just a few his audiences get something truly unique which will leave them captivated.
GARY (GACKO) BRIDGEONS
Gary(Gacko)Bridgens is the Royal Troubadour of Piel Island.
Proudly promenading with Dolly, his peripatetic perambulator of performance. Ever ready to unload his curious cargo of songs, stories and routines.
Celebrating his 40th year as a showman, Gacko is a family festival favourite due to his amazing versatility and irrepressible good humour. He has the gift of enchanting audiences young and old with a mixture of wordplay, slapstick, improvised musical interludes and tales embroidered with the flawless creativity of an infinitely improbable imagination.
Classic tails ripped up, rolled over and sometimes even rapped.
ALFIE BRIDGENS
Fresh from his four years after performing at The London Palladium as part of the popular television program Britain's Got Talent. Alfie brings his 40 Ukuleles to Darwen Festival of Fun to prove you can do it too.
During the workshop, Alfie will start from the very beginning and teach you how to hold the ukulele, how to strum and play basic chords and eventually learn a song to play together at the end.
The workshop is designed to be extremely easy and accessible, so even if you've never picked up a musical instrument before, you'll be able to join in and have fun.
Whether you're a child or an adult, this workshop is suitable for people of all ages. It's a great way to learn a new skill and have fun in a relaxed and friendly environment.
So why not come along and join in the fun? Perhaps you'll leave the workshop with a newfound love for the ukulele and the skills to continue playing on your own.
And remember – Uke Can Do It
BOOM DANG
Boom Dang is an internationally acclaimed side-ways drumming street-band. Performing with phat rhythms, choreography and tuned percussion.
Boom Dang play their original mix of Drum & Bass, Bhangra, Hip-Hop, Afro-Beat, Merengue, Moroccan Trance and Maracatu.
STILTS AND BUBBLES
What a great combination of fun and photo opportunities.
Millions of giant bubbles will fill Darwen Market Square, all whirling around and ready to be popped.