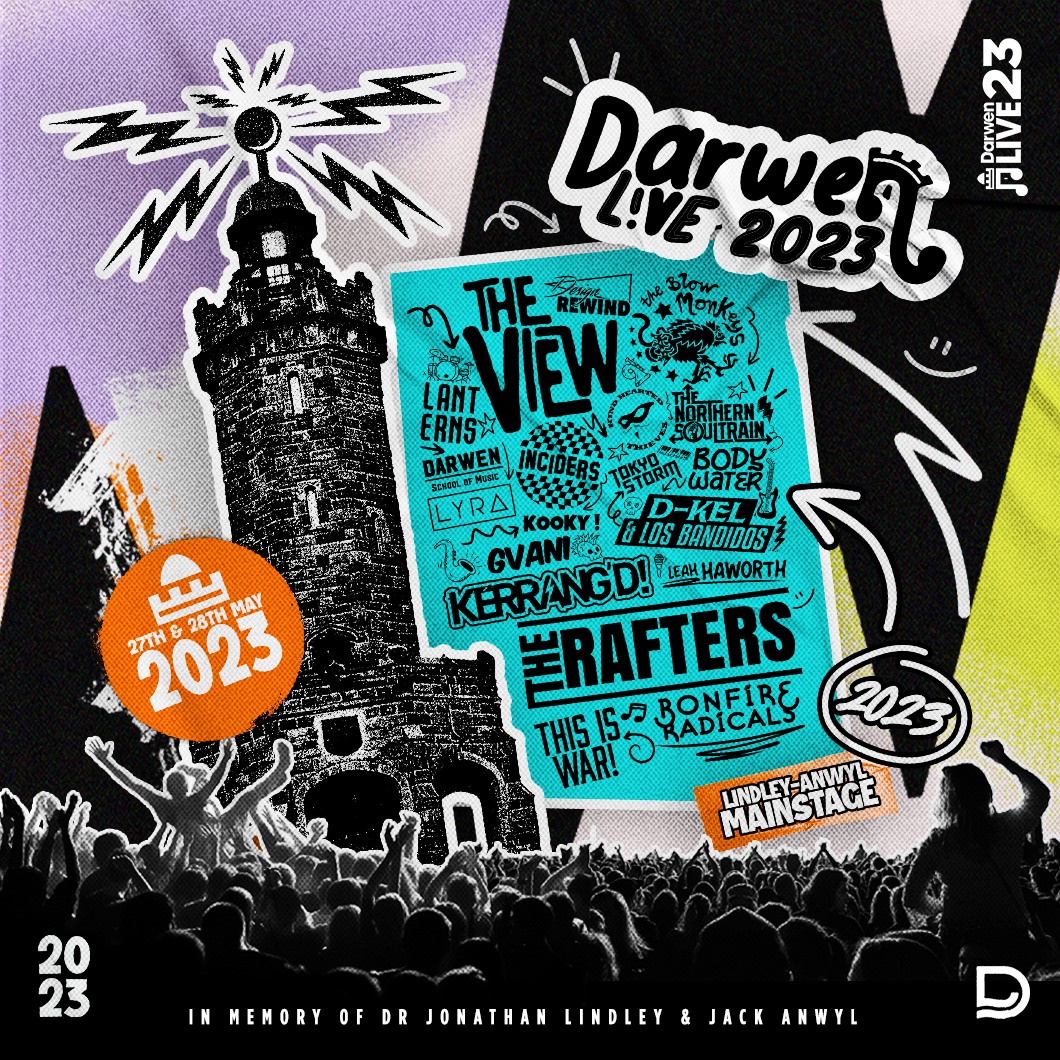 Darwen Music Live 2023
The UK's Biggest Free Music Festival in Darwen
FULL LINE UP AND LINKS BELOW!
SATURDAY 27TH MAY
12:00pm – Leah Haworth
Local ex-DACA pupil Leah has pursued her love of music and ended up attending the Brit School and performing and producing in London, we are proud to welcome her back to open this years festival 
https://www.youtube.com/watch?v=3Ko4gEVsTpg
12:45pm – McNally Music Act
Following on from last years showcase, McNally music tuition will be putting forward some new exciting talent.
1:45pm – Body Water
Despite only writing together for just over a year the band have already caught the attention of BBC Introducing, been featured on Radio 6 and recorded live sessions for Independent Venue Week.
Visually and musically inspired by gothic horror, their witch-like lyricism will have you chanting along to a psychopath's inner thoughts whilst their gritty, '80s guitar-heavy sound will transport you back to the Sunset Strip. 
https://www.youtube.com/watch?v=_g73Y6-Wc6s
2:45pm – Kerrang'd
The UK's live tribute to Kerrang! covering rock/emo/alternative classics from the early 90's-00's!
3:45pm – Inciders
Local ska/reggae band covering all of your favourite classics. Get ready to jump and prance
4:45pm – Kind Hearted Thieves
DIY Folk Rock Musician from Blackpool UK, inspired by the likes of Eddie Vedder & Chris Cornell
5:45pm – Tokyo Storm
Joe Bartnicki and Bob Peach, two seasoned musicians from the West Midlands, formed Tokyo Storm with a shared passion for AOR (Album Oriented Rock) music. The duo set out to rekindle their writing skills and create a sound that would pay homage to the classic rock music they grew up with.
6:45pm – Bonfire Radicals
The electrifying sound of Birmingham's fiery, (un)traditional folk band Bonfire Radicals is both intensely creative and irresistibly fun. Their live set is a frenzy of energy – "dynamic and high octane" (Fatea Magazine) – and captures the adventurous breadth of their musical imaginations which emerge from a melting pot of tunes and songs from the British Isles to the Balkans.
7:45pm – Lanterns
Melodic guitars, addictive rhythmic drums, and prominent dreamy vocals that stick like GLUE
8:45pm – The Blow Monkeys
For those too young to remember, The Blow Monkeys were a staple in the pop charts in mid 80's to early 90's, enjoying a string of hit singles and glowing reviews for their very sophisticated brand of music.
In 2008 after an 18 year silence, Dr. Robert and gang returned with a glorious new album – Devils Tavern. 5 further albums have followed and they show no signs of stopping.