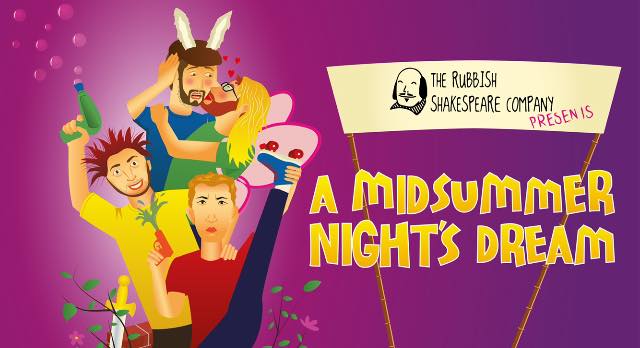 Rubbish Shakespeare: A Midsummer Night's Dream
IMPORTANT, please read:
You have probably noticed that the weather forecast isn't in our favour, and whilst we'd love the event to be outdoors on the Market Square (as originally planned), it's looking like rain, and possibly even thunder and lightning, is highly likely. So we have taken the decision to move the event indoors at Darwen Library Theatre.
If you need any help finding the venue, get in touch on bwdvenuesevents@blackburn.gov.uk
Doors will open from an hour before the start time, we can't wait to see you for a fantastic show.
Now fully booked
Why not support local businesses and enjoy a bite to eat from a Darwen Market trader or town centre cafe before or after the performance? And if you have any #shopdarwen entry forms lying around, don't forget to bring them and post them in the postbox in Darwen Market Annexe! 
Performances will be at 11:00am and 1:30pm, book tickets here.
Fairies, goblins, donkeys… Super soakers!?!? Uh oh, it's RUBBISH Shakespeare! 
Athens. The past (before toasters). Four bumbling idiots dressed in bedsheets attempt to stage William Shakespeare's 'A Midsummer Night's Dream', using only a box of pound-shop props, a camel onesie, and a ladder they found by the bins. Will they succeed? Of course not, no. But oh my, will you belly-laugh at the results…
Perfect for ages 4 – 104!