This popular Italian Deli and cafe serves authentic, traditional Italian food and has a range of gift items too
A little taste of Italy
Deli Carlo brings customers from far and wide for their authentic Italian delicatessen produce and heartwarming cafe menu.
As soon as you walk into this Italian & Mediterranean Deli and Café, you feel as though you are transported to Italy with the beautiful aromas, displays and shelves packed with such a wide range it's difficult to take it all in.
From pizza dough to home made pesto, Italian sausage and cheeses. This deli is a food lovers paradise! Christmas season brings traditional Panettone, chocolates and fabulous food hampers. There's always new produce and recipes being added to this delightful little spot so be sure to make it your regular!
Special dietary requirements? No problem.
From pasta to pancetta to traditional Italian coffee beans, everyone has their favourite reason for visiting. And now, Deli Carlo's very popular coffees can now be enjoyed by those who are dairy milk free, as an alternative soya milk will be on offer. Plus there are vegetarian and vegan meals to be enjoyed. Just ask Jackie or any of the team and they'll be happy to help.
Bringing Spanish inspiration to the Italian Deli
Darwen Market's popular delicatessen and café, Deli Carlo's, has been bought by local couple Jackie Aspinall and Steven Wood.The couple, who have experience of running food businesses locally, are keen to build on their predecessor's success.
It will always retain its Italian focus, although some wider Mediterranean influences may start to appear on the menu. Jackie spent 11 years living in Spain, so has a wealth of culinary experience that she picked up there.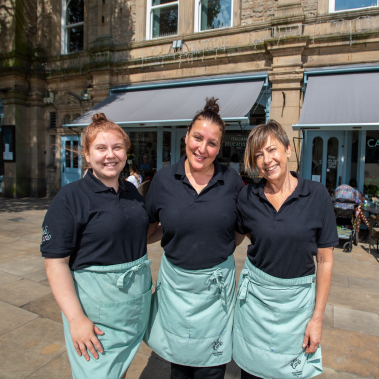 Jackie, whose talents appear to be endless, is qualified in British Sign Language and is able to sign to customers. After a special request, Deli Carlo's will be offering a regular signed coffee morning.