Third generation family butcher that's passionate about top quality produce
A Traditional Farmer and Butcher
Turner's Butchers is a third generation farmer and butcher. They have a fantastic range of meat available with their steaks being a particular favourite thanks to being hung for at least 21 days. Their cooked meats are home cooked as well as their pies, black pudding and tripe all sourced locally.
Hen, duck and goose eggs are all free range too! Tom's farmhouse roast ham is a customer favourite if you're looking for an insider recommendation.
Tom also supplies a range of Lancashire cheese and locally produced pies. You will also find traditional favourites such as tripe and black pudding.
Extraordinary service
Tom's customers are loyal fans and love to share with us how much they love the produce. Pat Jones explains perfectly why Turner's is worth a visit:
"I have lived in Darwen for over 20 years and Bolton before that. There are many butchers in and around where I have lived these past thirty years but I only ever buy my quality meat products from Turners Butchers in Darwen Market.
Tom and his team consistently seek to provide me with exactly what I ask for and the compliments I get from friends and family who sample Tom's goods is one of the many reasons I return for more! The other main reason is the team who are always friendly, happy and pleased to see every one of their customers no matter how long the queue is. We all know it's worth the wait!
Tom's pork pies are the talk of our gatherings and my husband gets treated to a large pork pie at weekends. For me it's the amazing beef! Whether it's fillet steak or humble mince it's never ordinary. It's always tender, tasty and when it's from Tom's own herd it's extraordinary!"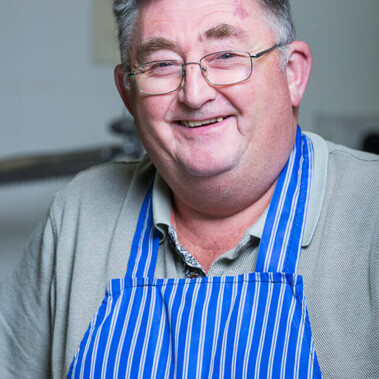 Turner's Butchers opened in Darwen in the old 'wooden huts' by his dad John in 1958. Tom took over in 2012 when John retired but has worked on the market since his school days. He's retained all the traditional butcher ways as he bones out all his meat and nothing is bought in boxes.
Having his own farm enables him to rear his own beef and lamb and ensure the welfare and treatment is up to his high standards.
Tom's favourite stall on the market: