An incredible range of cheese including specialities such as Kick Ass Strong Cheddar and Black Sticks Blue make S Parr and Son a cheese lovers dream!
Over 30 types of cheese on offer
S Parr and Son have over 30 types of cheese on offer including Lancashire and British favourite Blacksticks Blue. Named the 'daddy of all blue cheeses' this distinctive flavour is equally fabulous over a perfectly cooked steak or as it comes on a water biscuit. The cheese is aged for about eight weeks during which it develops an amber hue along with a delicious creamy smooth yet tangy taste.
Also pulling in the customers from across the county is the unique strength and flavour of Kick Ass cheddar. Once tried it becomes a firm favourite of customers and a regular on the shopping list.
Of course the best seller on the stall remains Creamy Lancashire cheese. A perfectly tasty cheese that is enjoyed by everyone. 
More than a cheese stall
We're always talking about the fabulous cheese at S Parr and Son but equally as popular are their freshly roasted chickens. Pick up a whole chicken, half chicken, breast or legs. Plus if you like a little spice they have a range of flavoured chicken too including Piri Piri. 
Also now are chilli and garlic butters from local supplier Our Paula's. Only available from the market in Darwen they liven up an every day meal into something deliciously tasty. We recommend you pair them with a high quality steak from Turners Butchers for something a little bit special.
For your salads pick up some Lancashire Sauce or use it as a marinade for your meat!
A true passion for produce and service.
S Parr & Son are always adding to their offer bringing in new products for you to try especially at Christmas when you can find speciality cheeses like Peach Schnapps and the Kick Ass Bomb.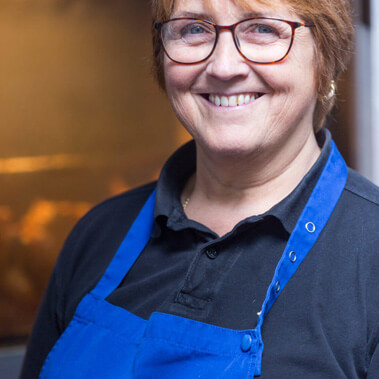 Janette and Rona make up the friendly team at S Parr and Son.
Janette's favourite stall on the market: