Super fresh, locally sourced, handpicked and seasonal means your fruit and veg looks, smells, tastes and lasts better.
Seasonal means serious flavour.
This is the kind of fruit and veg that takes you back to the days when produce was seasonal, tasty and long lasting. This is the kind of market stall that turns even the most nervous of cooks into an experimental chef and these are the kind of ingredients that turn a bland dish into something that packs a serious flavour punch.
If you miss the days when fruit and veg actually had flavour and you find yourself cooking the same things over and over again then you need to visit Woods. Follow the seasons, look forward to your favourite produce arriving and get inspired by the variety on offer.
There's always new produce on this stall! You can't help but get inspired by the wonderful display they put together. 
Sourced from local producers and hand picked daily!
Sourced from local producers, Woods Fruit & Veg is handpicked just hours before the stall opens and that's why customers travel from across the county to Darwen Market.
With 10 varieties of homegrown potato, Woods sells more potatoes than any other product on the stall. They are also the chosen supplier for many of the restaurants and cafes in town which is all the recommendation you really need that the quality and value is spot on.
A true passion for produce and service.
All the amazing products at Woods Fruit & Veg are grade one and hand selected by David for their quality, value and 'localness'. 
The team are famous for their personal service. They always go the extra mile to help customers, carrying bags out to cars or bus stops and giving special discounts.
They also offer a fantastic fruit & veg box delivery service, find out more via their Facebook page.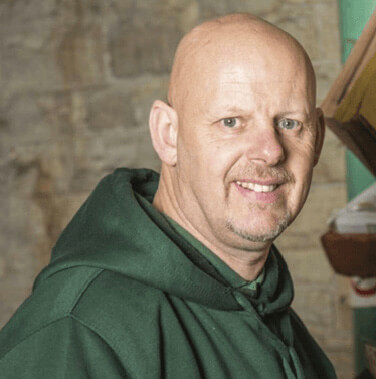 The Woods name has been trading on the market for nearly 40 years and has always had a very good reputation. David worked for the previous owners of Woods Fruit & Veg and when the business came on the market he jumped at the chance of taking over.
David says he is passionate about what he does and most of all passionate about making his customers happy.
David's favourite stall on the market: Gilly's Sandwich stall for the variety and freshness where you can choose exactly what you want and they make to order. Also steak from Turner's Butchers is, according to David, the best!