Earth Evolution, Darwen's new eco refill shop, opened last month and has already proven to be a favourite with both the local community and visitors from surrounding areas. We visited the shop last week to chat with the owner, Kate, and try some of their famous vegan sweets!
A variety of kitchen cupboard staples
The shop front on Duckworth Street is very inviting – the window is decorated with hand drawn summer wildflowers, and above there is a handmade sign made from recycled wooden pallets.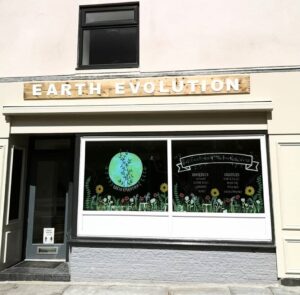 At the minute, two people are allowed in the shop at one time (wearing masks if possible), and there is hand sanitiser to use as you enter.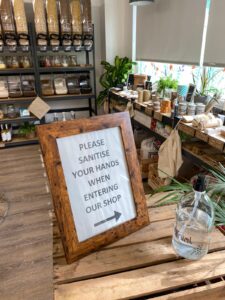 The interior of the shop really is impressive, two walls are covered with large dispensers and various jars, full of both everyday essentials and more unusual items that are often harder to find, such as orzo and onion powder. Kate has worked hard to provide the shop with a great variety of products, including pasta, rice, lentils, spices, dried fruit, nuts and seeds, plus vegan sweet treats. Lots of the stock is organic too.
How does it work?
Eco refill shops may be a new concept to you, but rest assured that they are very simple and enjoyable to use. Another hand drawn illustration over the counter explains all: weigh, fill, weigh again, pay.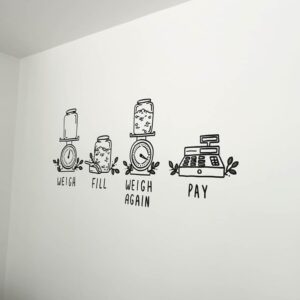 Simply bring along your reusable containers from home, anything will do, get them weighed, then fill them with goodies, weigh again to see how much you're buying, and pay! If customers forget their containers, or pop in on the spur of the moment, they can take advantage of Kate's basket of clean jars (many of which come from their next-door-neighbour, Freedom Organics), or of recycled brown paper bags which are also readily available.
A safe and clean shopping experience
Kate has cleanliness covered too, with an easy and clever system involving a clean scoop and tong station, plus a used station. Shoppers who want to help themselves can pick a clean utensil, scoop out what they want into their containers, and then place the utensil in the used basket when done.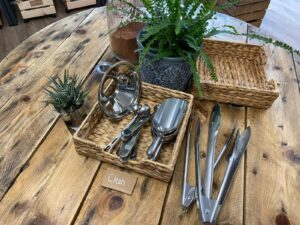 Alternatively, customers can ask Kate or another assistant to dispense items for them, while they browse what else is on offer. The utensil station can be found on the shop's centrepiece, a second-hand cable drum which Kate and her husband got for free from a neighbour and upcycled into a table that fits perfectly in the middle of the room.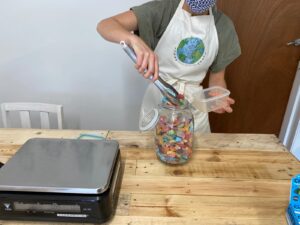 The shop sign and counter were also labours of love made from old wooden pallets – the time and effort have certainly paid off, as they give the perfect rustic, earthy vibe.
An easy way to be more eco-friendly
Earth Evolution also offers cleaning products, and a gorgeous range of eco-friendly homeware products, beauty products and gifts, many of which are reusable alternatives to single use plastics. Cutting down on plastic and food waste were main motivations for Kate when deciding to open her own refill shop.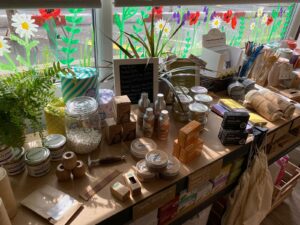 Having visited several similar shops in North West towns, Kate wanted to make it easier for the community in Darwen and surrounding areas to cut down on their plastic use and buy exact quantities to reduce food waste. And it couldn't be more obvious that people were looking to do so, as Earth Evolution has been busy since opening in July. To make it easier for people to visit, the shop is now open on Sunday 10am-2pm and until 6:30pm on the first Thursday of every month, in addition to 10am-4pm on Tuesdays, Thursdays, Fridays and Saturdays.
Visit Earth Evolution soon!
Another fantastic addition to Darwen – be sure to leave them a review on Facebook or Google after your visit… and make sure you try the vegan sweets! Follow them on Facebook and Instagram.