Darwen Heritage Centre is a fantastic free resource for the people of Darwen and surrounding areas. The Centre reopened last month, and so we caught up with Albert, one of the volunteers who makes running the Heritage Centre possible. 
The Heritage Centre is located within the handsome Holker House on Railway Road, in a prime position between Darwen Market Square and St Peter's Church. The house was built in 1871 for local doctor, George Hindle, and is Italianate in style. Many original features are still intact – the amazing tiled floor in the hallway is the first thing you notice!
Plenty of photos, stories and objects to spark your interest
Current opening hours are Wednesday 10am – 1pm, Friday 10am – 3pm, and Saturday 11am – 3pm, and you certainly won't be disappointed with your visit. In the meeting room, there is a great deal to look at and read, such as information on Darwen parks, mills, transport of the past, red letter days and more, plus maps, and artefacts from numerous aspects of Darwen's rich history, including items from the cotton mills, old school badges, old shop signs and everything in between.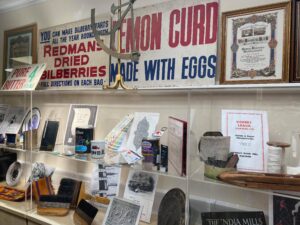 The front exhibition room is currently home to a wonderful presentation on Darwen weddings throughout the years, you may even find a photo of a relative on display!
Lots of great opportunities for young people…
But the Heritage Centre isn't just a place for the older generations to reminisce, it's also a window to the past for the youth of today. It's a valuable resource for anyone who wants to find out more about the lives of Darreners before them and understand the industrial history that wove the threads that make the Darwen of today.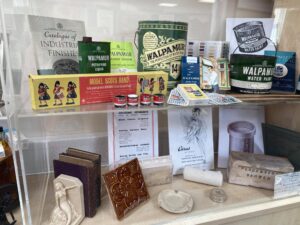 Whether you're a born and bred Darrener, have moved to the town in more recent years, or are simply visiting for the day, there is sure to be something that captures your imagination and speaks to you as an individual. Plus, there are plenty of opportunities for any young people who would like to get involved. If you're looking to gain experience, fulfil voluntary requirements for Duke of Edinburgh or similar, or give your CV or personal statement a boost, then visit the Heritage Centre and talk to the team. Similarly, if you're doing a project and think it would benefit from some input from the Heritage Centre team, don't be shy.
…And for community groups
Darwen Heritage Centre volunteers are also keen to connect with local schools, Scout/Guide groups, and any community clubs and organisations. The Centre can accommodate these groups and have experienced volunteers who can deliver fascinating presentations on Darwen's history – don't hesitate to get in touch if you are interested in finding out more. 
During your visit
When you visit Darwen Heritage Centre, you are free to wander around the displays and exhibitions at your own pace. But if you would like to ask any questions or find out more about any artefacts or photos, volunteers are more than happy to chat and reveal nuggets of information from Darwen's past. There is also a small shop selling books and small gifts, a sitting room where you are free to enjoy a drink and spend time chatting or reading, and there are accessible toilet facilities.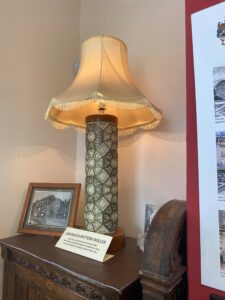 After your visit
After your visit, you can extend your tour of Darwen's past by completing one (or more than one if you have the stamina!) of the Heritage Centre walks, which are available on their website and/or Facebook page. Both the website and Facebook page are also home to an abundance of old photos of Darwen and captivating insights from the past. If you need any photos of old Darwen for a project, be sure to mention it during your visit, or send a message on Facebook.
Make the most of this fantastic Darwen facility – it's there to be used!
During our recent visit to the Heritage Centre, Albert stressed that it's there to be used and enjoyed, and this is a message we want to underline, too. It's easy to forget what's on offer in Darwen when you are busy going about your day to day life, but take stock over the next couple of months and remember to make the most of the free facilities that are available. 
Whether you're a newcomer to Darwen, here on a visit, or have lived here all your life, there's something that will interest you at Darwen Heritage Centre, and you can guarantee a very warm welcome from the volunteers. 
Be sure to visit soon!