Families are in for a treat this coming week at Darwen Market. In collaboration with Culturapedia and Spot On Lancashire, we are excited to be bringing you a week of fun, imagination and adventure.
Our four themes for the events are Create, Make, Explore and Watch, so there's an activity for everyone and something different to experience each day. All activities are 100% free and no booking is required.
There is also an environmental undertone to this week's programme, with a focus on sustainability and climate change. Bringing activities to local families in a green way is important to us, and to Culturapedia. For each activity they organise, Culturapedia plants one tree – that means four trees will be planted from this week's schedule. 
Here's a little more about each activity…

Monday 11th April – CREATE Together with Recycled Paper Wall Art
We're going to be creating a giant mural in Darwen Market made from recycled paper!
Plenty of recycled paper will be provided, including a generous donation of wallpaper from Graham & Brown, but please bring your own if you are able to as it'd be great to have a variety of materials. All we ask is that it's clean, so no greasy marks etc.
There's zero pressure on what you add to the mural or how you make it… cutting fun shapes, folding, scrunching, collaging – you're free to let your imagination run wild. It's all about creating something together as a community. 
The mural will remain in the market for some time, so you can show your friends and family what you helped to create. 
This event will run from 10:30am till 2:30pm, simply pop down when you can and join in.

Wednesday 13th April – MAKE AND TAKE HOME with the Keen Green Macrame Machine
Creative entrepreneur, Sophie Skellern, will be joining us on Wednesday to share her magical macrame wisdom.
The craft of macrame involves using knotting techniques to create decorations and accessories. Macrame can be as simple as friendship bracelets, or as complicated as intricate wall hangings. 
In our case, Sophie will be showing families how to make keyrings which you can take home and keep, or give as a gift to a loved one.
Come down between 10:30am and 2:30pm and enjoy learning a new craft.
Thursday 14th April – EXPLORE our market Easter Treasure Hunt
Ahoy there! We need young explorers to solve the clues to reveal the letters that spell out a secret password. 
Clues can be collected from market stalls and around the market square (details will be given on the day), and if you're successful in collecting them all and finding the password, you'll win a prize.
Treasure hunters are free to dress for the occasion in a pirate's outfit, adventuring attire or whatever they fancy.
This activity will also be taking place between 10:30am and 2:30pm – we hope to see you there.

Saturday16th April – WATCH & JOIN IN with The Old Green Time Machine
Finally, we'll be welcoming Coalesce Dance Theatre to Darwen on Saturday. 
They will be performing their brand new show, The Old Green Time Machine, which is a whirlwind of contemporary dance, music, poetry and fun.
The plot involves the journey of two eccentric time travellers. This entertaining duo are racing to save the world from a future where no living things remain and all that's left is plastic. They must take an urgent journey into the past to make sure this future doesn't come true, using their carbon friendly (but very old and rickety!) bicycle time machine.
There will be an interactive 'stay, play and learn' session after the performance where audience members will have the exciting opportunity to interact with the characters, ask questions, play games and perhaps even learn a dance.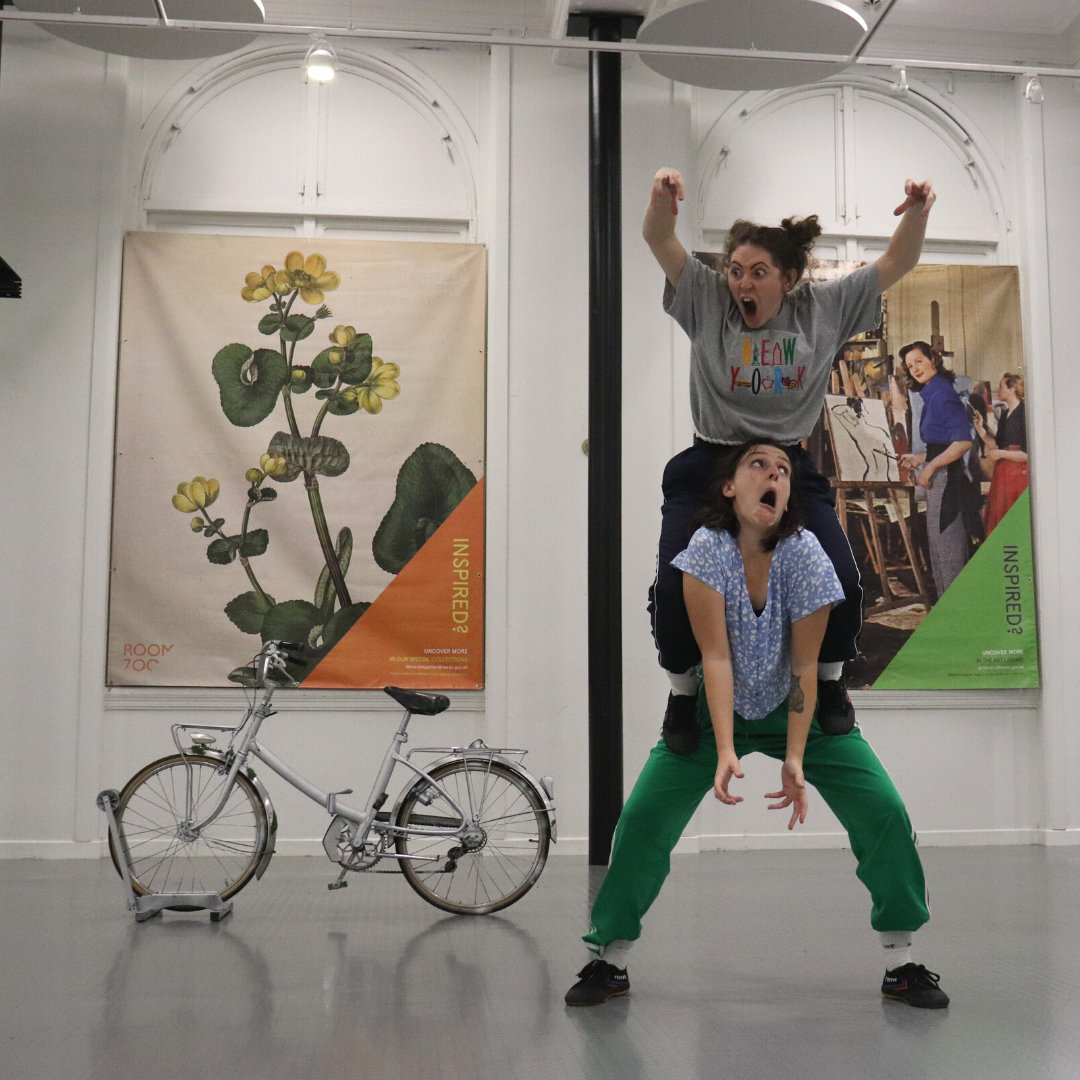 Lyndsey Wilson, Spot On Lancashire Programmer explains:
"Coalesce Dance Theatre is a brilliant female led dance company who approach topical subjects with an uplifting and engaging approach. Their whimsical storytelling originally captivated audiences in libraries across the North West and the show is now destined for a run of outdoor performances… we're crossing our fingers for good weather, but we've got an indoor or covered performance space as a backup for each event!"
Performances will be taking place at 11:30am and 2pm, more info on the event's location will be shared in due course. 
Family Fun at Darwen Market
That concludes our week of family fun this Easter.
There will be an activities hub within Darwen Market Hall (opposite Candy Rush), where you can go to join in and get information from coordinators. Please remember that these events require parents/guardians to supervise their children – adults are welcome to join in and create, make, explore and watch, too.
Don't forget that you can keep up to date with Darwen Town Centre events by checking the Event Calendar, signing up to our newsletter, and by following Darwen Town Centre and Darwen Market on Facebook.
Have a fantastic Easter!