Caskbar brings the best cask ales to Darwen
A rotating weekly schedule of local cask ales ensure there is always something new to taste at Caskbar and with a range of Gin and Whiskey too, every drinker is happy. 
Just on the outskirts of the main street in Darwen, opposite Lidl, is a gem of a place offering real cask ales.  Anthony and his friendly team take great care in not only choosing the ales but looking after them with the dedication and passion you'd expect from a true cask ale aficionado.
Using brewers such as Black Edge based in Horwich, Brew Smith from Ramsbottom, Wiley Fox from Wigan and our very own Snaggle Tooth brewed right here in Darwen, Anthony does his bit to support locally brewed ales with most sourced from within a 25 mile radius.
So what is in store for you when you visit Caskbar?
Well, they offer 4 ales, 2 lagers and 1 cider rotated weekly so no matter how often you go in you'll always be exposed to new, inspiring drinks. This week I popped in for a swift taster and they had on offer Yammer House, Storm Brewing and Blighty brewed in Rossendale and Macclesfield.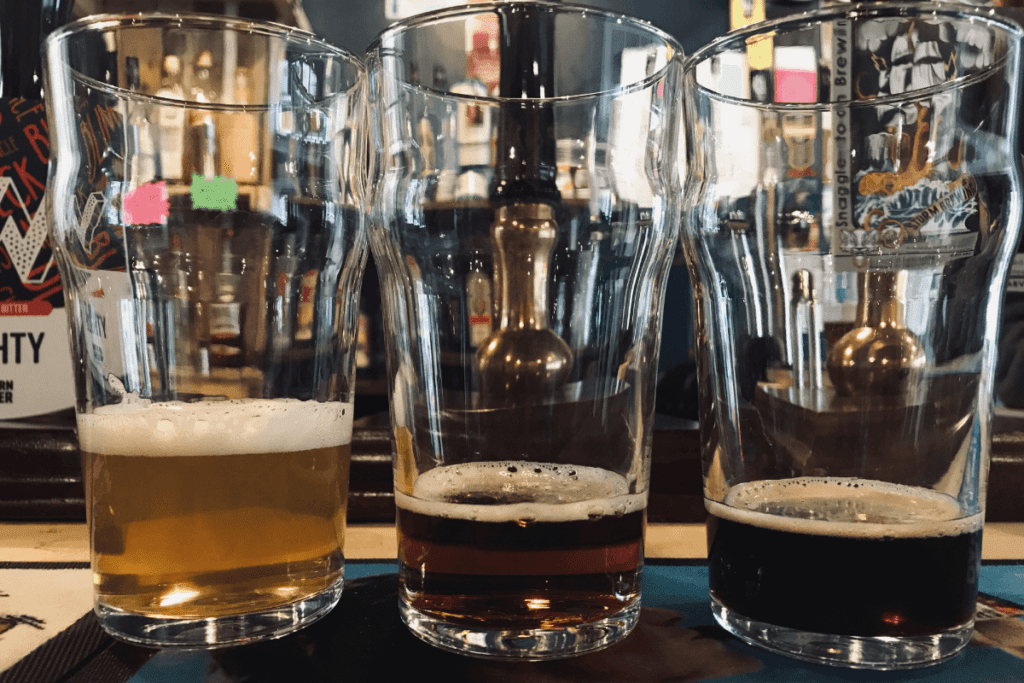 The Yammer House is an American pale ale and as soon as I lifted the glass to my lips a waft of elderflower made it's way up my nose. This beer is as good, if not better, than any sauvignon blanc I have tasted. It is crisp, light and fresh. Crying out to be drunk with a roast chicken dinner or a chicken pie, it is absolutely delicious.
The Storm Brewing is aptly named, it's a classic bitter with a slight dark malt taste and would be great with a dish of rich tomato based pasta. A lasagne would be perfect!
The last one I sampled was Blighty which is the second of the three brewed in Rossendale by the Northern Whisper Brewing Company who pride themselves on being born, bred and brewed to be different. They brew beers that challenge your taste buds and push the boundaries of flavour. If you have ever been a smoker you will appreciate this dark stout like beer, it has slight smoky notes when you first pick up the glass and if you crave that caffeine/nicotine hit after a meal then this is the beer for you. It has the same indulgent, mysterious draw that a puff on a hand rolled cigarette has. It's a grown up beer to be drunk sparingly.
If these beers are not available when you pop in then just speak to the very talented and knowledgeable staff,  they are more than happy to give you a taste, talk to you about the beer and help you on your journey of discovery.
If anyone is looking for me next Wednesday, you'll likely find me at Caskbar for their free supper quiz night. A great opportunity to try out this new bar if you haven't already! – Maria x
**Maria Grieco is a local foodie and founder of Dinner at Maria's, a supper club for anyone that enjoys great food and drink with juicy conversation. Maria writes about food and drink in Darwen each week for Darwen Town Centre and Darwen Market. See more over on our Facebook page**