Christmas has crept up on us yet again, and although things are undoubtedly different this year, there's still plenty going on a Darwen Market…
Open two extra days
First and foremost, make sure you get Sunday 20th and Tuesday 22nd highlighted in your diary, as Darwen Market will be open on these days, giving you extra time to get your Christmas essentials. The market will be open 9am-3pm on Sunday, and 8:30am-5pm on Tuesday. However opening hours for individual stalls may vary, so it's best to get in touch with them directly if you need to check, or send a message to the Darwen Market Facebook page. The traders are working hard to supply customers with the quality items they need this festive season, but as we get closer to the big day, the most popular items inevitably begin to sell out – so if there's something specific that you need, don't delay!
The market will close at 4pm on Christmas Eve and be shut from Christmas Day until the 29th. It'll then be open as normal on Wednesday 30th, open 9am-3pm on Thursday 31st, closed on New Year's Day, and then back open for essential shopping on Wednesday 6th January. Again, individual trader's hours may vary.
Christmas Glamour at Darwen Market
Although there won't be the same parties and events this year, we know that lots of us are looking forward to getting our glad rags on at home and really making the day feel special. Darwen Market can help you to get glam – we have several brilliant hairdressers and Jennifer at Perfect Nail'z to get you feeling your best, and if your Christmas Day outfit and accessories need an alteration or repair, look no further than Jackie at Stitch, Tony The Cobbler and Gold & Times Jewellers.
Beautiful Christmas Decorations
Darwen Market is certainly channelling the festive glamour itself, with a whole host of wonderful decorations inside. The Crafty Vintage team created a magical Christmas tree walkway within the market hall, and the traders all chipped in to give the large wreaths a much needed revamp.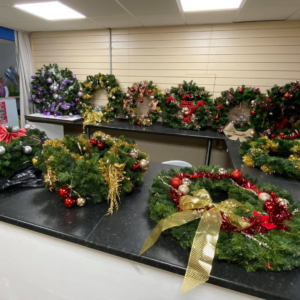 Each wreath is unique and reflects the different personalities of the traders within the market – make sure you look up next time you're shopping to see them for yourself, or if you're not able to get out and about at the minute, check out the Instagram Reels video. Plus, Avondale School kindly made many lovely paper snowflakes for the market, which have been used to create Christmas tree displays around the building.
Festive Saturdays with pop-up stalls & singers
Crafty Vintage also decorated the middle of the balcony, creating a festive focal-point for singers who have been serenading shoppers with Christmas carols and tunes while they get their essentials on Saturdays in December. Several fabulous pop-up stalls have also been visiting Darwen Market on Saturdays, including local artist, Peter Woodhouse, Lady T's Treasures, Manor Handmade and more.
On Saturday 19th, these three stalls will be popping up, along with local brewery, Hopstar. Plus, live singing will be provided by the excellent Samantha Leslie. On Sunday 20th, the "Grand Duchess of Cabaret", Kiki DeVille, will be joining us – we can't wait! For more details, make sure you like the Facebook page and follow on Instagram. There are regular competitions on the Facebook page too – another reason to follow!
So, that's what's happening at Darwen Market… The festive season is a great time to #loveyourlocalmarket and support your local community – Darwen Market traders are going above and beyond to supply residents of Darwen and surrounding areas with quality items and services this December, and truly appreciate your support. Have a very happy Christmas!