Maria Grieco is a local food lover and NHS worker who has turned her passion for cooking into a successful venture, Dinner at Maria's. Maria is an active member of the community in Darwen and often gives us a hand with foodie content for Darwen Market.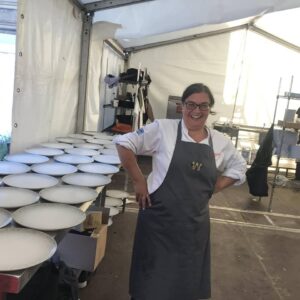 We caught up with her last week to find out more about where her love of cooking stems from, and how she's adapted her business in 2020.
Mediterranean Roots
Maria was born in Blackburn, and moved to Darwen in 1989 – she's lived in Darwen longer than she's lived anywhere else, a testament to her love of the town! Her interest in food can first be attributed to her heritage – Maria's mother is Spanish and her father is Italian, and she spent many long summers as a child in southern Italy at her grandparents' house. Her grandparents were almost fully self-sufficient, and everyone had to muck in with whatever jobs there were to do on the land. This experience taught Maria the importance of using fresh produce and valuing where our food comes from.
The origins of Dinner at Maria's
Back in Lancashire and many years later, Maria discovered that she could use her passion for food in an enterprising way, first by using her cooking skills to help out the girls guide group that she led at Saint Cuthbert's in Darwen. The girls had the opportunity to take part in a volunteering scheme abroad, but they had to raise the funds to get them there. Maria decided she would research food from the countries the girls chose to go to, including Costa Rica, Africa and India, and make traditional dishes. Tickets were sold for the meals, and it was a great success. Then, Maria's brother in law took part in an Iron Man challenge to raise money for a cause very close to his heart. Maria again was inspired to use her foodie talents to raise money, so she sold her meals and raised almost £1500. Those who bought her food loved it, and after the event people were still getting in touch to ask if they could buy a meal! This experience gave Maria the confidence to launch Dinner at Maria's in 2016.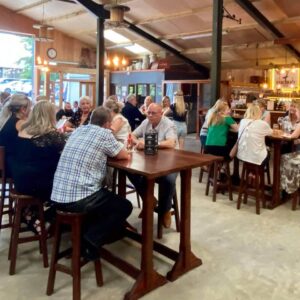 Branching out and Cuckoo Gin
Maria put on countless successful supper clubs at her home for almost three years, cooking everything from scratch, and then branched out even further by hosting pop-up supper clubs at local venues including Tockholes Village Hall, Four Seasons Garden Centre and Longridge Palace Theatre, and taking part in events such as Bolton Food Festival. This led to the Dinner at Maria's collaboration with Cuckoo Gin at Brindle Distillery, a fantastic venue in Chorley. Maria has cooked for regular supper club events at the venue since October 2019, and all have sold out swiftly – a quick look at the reviews on Maria's Facebook page will demonstrate just how good her cooking is and just how successful the Cuckoo supper clubs have been.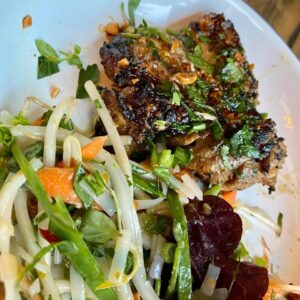 Adapting to Covid
As supper clubs are paused at the moment due to Covid, Maria has adapted her offering, and is now supplying the people of Darwen with delicious meals to takeaway, which can conveniently be bought via the WeFiFo website. Recent offerings have included Ethiopian dishes and Greek and Moroccan "picky teas". To find out more and stay up to date so you have a chance to try Maria's famous food, make sure you like the Dinner at Maria's Facebook page and Instagram account. Maria's cooking is always super fresh and made from scratch, making it a great choice for those who want a healthy treat.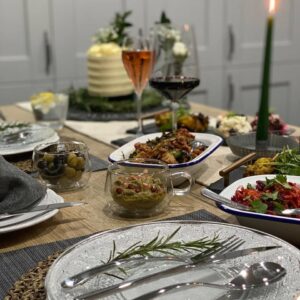 What makes living and working in Darwen special?
When explaining what she loves about living in Darwen and why she's stayed here for so long, Maria says it's because Darreners (and "adopted" Darreners) are friendly, special people. She likes how she's able to walk everywhere within Darwen, and says the town has a warm atmosphere and fantastic community feel… We agree!
We're very lucky to have Maria and her fabulous cooking skills here in Darwen, and we're looking forward to being able to enjoy one of her supper clubs again. In the meantime, check out her Facebook and Instagram, and keep an eye out for the next takeaway offering!