Darwen is home to a thriving creative community, including the talented Billy Almond. Billy is a Darwen based art teacher, illustrator and designer who focuses much of his stunning work on Darwen and surrounding areas. 
We caught up with Billy last month, while he worked on a mural at an exciting new town centre venue, to chat about his love of art, his unique style and more.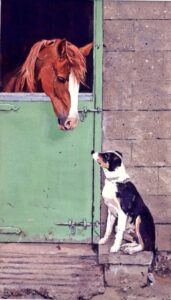 An art lover since childhood
Billy has been infatuated with art and creativity since childhood. Early projects include drawing players using football stickers as a reference, and doing small commissions for school friends. It's no surprise that after studying art at school in Darwen, he went on to study Art and Design at Blackburn College, and Illustration in Blackpool.
As a self confessed "creative Jack-of-all-trades", Billy has always managed to bring his artistic eye into his dayjob, in addition to working on his art projects in his spare time. (Many of these projects have been high profile, such as the illustrations he created for the opening credits of Channel 4 show, Vacation, Vacation, Vacation.) He currently works as a high level teaching assistant in a school for children with learning difficulties, and finds that there are plenty of opportunities for learning through art and creativity.
Beautiful depictions of Darwen's landmarks
Billy spends a great deal of time in his home art studio when he's not at work, on various projects. You will most likely have seen Billy's beautiful depictions of Darwen Tower, India Mill and local countryside if you're a social media user. He prefers to use gouache paint, as it can be built up in layers to give a punchy colour pay off, and unlike the more delicate and fiddly watercolour, you can use opaque white gouache paint to make a painting really pop.
It's taken years for his unique style to develop, and he now feels he fits comfortably between fine art and more abstract illustration. Billy likes his art to look like art – to be a unique impression of the subject. It's so easy to go about our day-to-day lives without consciously experiencing and taking in our environment, but Darwen's artists and creators, such as Billy, help us to see our town from a new perspective, and appreciate our surroundings.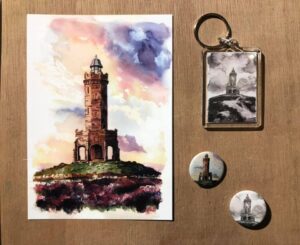 Collaborations with local businesses
Billy's depictions of local landmarks such as Darwen Tower gained much interest on social media, and in recent months he has begun to really expand on his freelance work. The catalyst was his stall at a market by Darwen Community's Satori-ki Events. His local artwork caught the eye of Laura Jenkinson, owner of Sweet Vintage at Darwen Market ( a Shop Darwen member!), and the two began a partnership. Billy joined several other local crafters and creators whose products Laura sells in the gift section of her tea room. You can purchase Darwen Tower keyrings, prints and badges, which make fantastic stocking fillers for any proud Darrener this Christmas.
Business prospects are only expanding for Billy, as his growing presence has caught the eye of several other local businesses who have commissioned him to illustrate a mural at their premises.

India Mill Mural at new bar, 303 Drinkery
One of which is Leon Kelly, owner of the Level One brand, who is opening a brand new bar and venue, 303 Drinkery. (The bar is named after the height of India Mill's iconic chimney, in feet – not metres!) Billy was asked to create a stunning mural of India Mill on the back wall of the venue, and we were lucky enough to see it in progress.
It takes great courage to undertake such a large project, to make that first paint stroke on the bare wall and commit to seeing a project through. But the sense of accomplishment and satisfaction is always worth it, as is the creative flow that you get into while working. Billy told us how when he's in this flow, he begins to prematurely mourn the end of the project, no matter how challenging it has been. That's when you know you really love what you do!
It's fantastic to see independent Darwen businesses, creatives and entrepreneurs working together and supporting one another, and we know the final result at 303 Drinkery will be spectacular. Make sure you take a look for yourself when the venue opens.
Billy's advice to budding artists
Billy's advice for anyone keen to get into art would be to "have a go" – it's as simple as that. There are no rules and no expectations, buy a cheap sketchbook and take it with you on daily errands. Many of us believe we don't have time for new hobbies, but Billy stresses that time can be found and that opportunities to practise are abundant. You can sketch pretty much anywhere: on the bus, during your break at work, while waiting for an appointment etc. Just have a go!
Check out Billy on Instagram and Facebook.
We hope you're feeling inspired to take up a new hobby and appreciate our surroundings here in Darwen, both our green spaces and more industrial areas. Even if you don't have the desire to take up art, why not consciously observe your walk to work, your trip to the shops or your weekend stroll to Darwen Tower? You never know, you may find you're able to spot details you've never noticed before, or see things from a new perspective.