We're looking forward to three exciting free family events coming soon to Darwen Market!
In collaboration with Culturapedia and Spot On Lancashire, local families will be able to enjoy three more free activities in Darwen Town Centre, this time with a Jubilee theme.
There is also a theme of connection and sharing stories amongst each other. The Platinum Jubilee inevitably will prompt us to reflect and share experiences from the last seventy years with friends and family – whether you've been around for five years of Queen Elizabeth's reign, or all seventy.
Just like last time, no booking is required – simply turn up and enjoy. Here's what's in store…

Sat, May 28th at 10:30am – Explore Mini Adventures: Crown Jewels Treasure Hunt
Dress in your best detective outfit ready to solve the clues to find the crown jewels! 
With fun murder mystery vibes, this activity will take mini detectives around the market/market square while they complete their important mission – the Queen needs the crown jewels for the Jubilee after all, so time is of the essence. 
This activity will take place from 10:30am till 2:30pm, come down when you can and join in.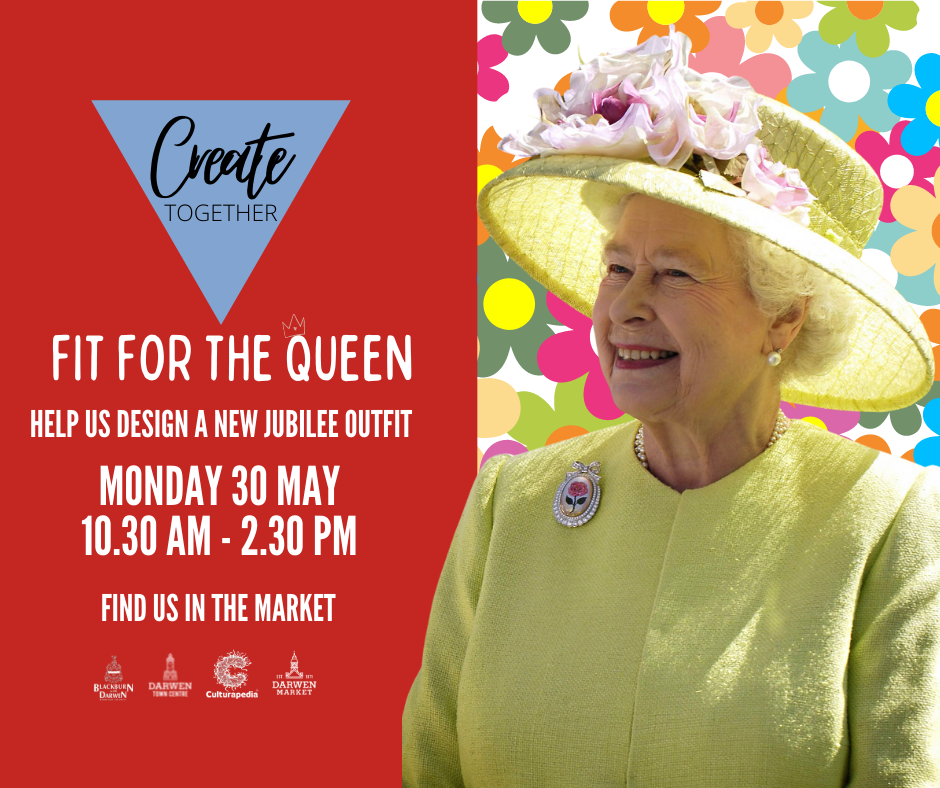 Mon, May 30th at 10:30am – Create Together: Fit For The Queen
Get your creative juices flowing to design your ideal outfit for the Queen! We all know that the Queen is somewhat of a fashion icon – we never see her in a mismatched outfit. But this is your opportunity to dress her exactly how you think best.
Whether you simply colour in your paper doll, or get super crafty with cutting, sticking and collaging, there are no rules and no right or wrong way. It's all about creating together and having fun.
The Culturapedia team will be ready to provide inspiration and lend a hand should you need it.
Fit for the Queen is taking place between 10:30am and 2:30pm – drop by and take part.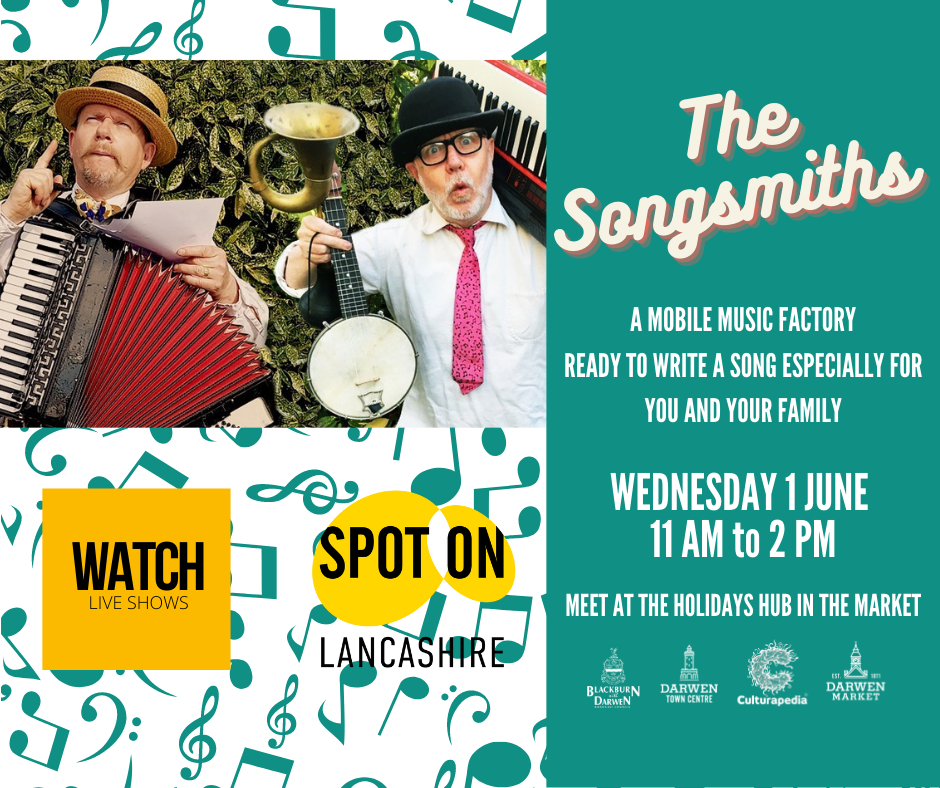 Wed, June 1st at 11am – Watch Live Shows: The Songsmiths
Finally, The Songsmiths will be joining us in Darwen Market and on Darwen Market Square for plenty of lighthearted musical hijinks on Wednesday 1st June. 
A mobile musical factory, The Songsmiths are able to whip up personalised jingles in as little as 15 minutes about anything and everything. Expect songs about Darwen Market and its traders, shoppers, passers by and much more.
If you'd like to come down and ask for a particular song to be written, feel free! Maybe you have an important birthday coming up or you'd like them to make a tune about the Jubilee? Just ask and they can oblige. 
Or if you'd rather just drop by and watch them use their amazing musical talents from the sidelines, you're more than welcome. 
Expect fun, storytelling, and plenty of catchy tunes! It's a unique experience not to be missed. 
The Songsmiths will be joining us from 11am till 2pm, see you then.
Free family fun in Darwen Town Centre
The holidays hub inside Darwen Market Hall (opposite Candy Rush) will again be used as a base for these activities, so head there for more information and to speak to coordinators on the day.
We kindly ask you to keep in mind that these events require parents/guardians to supervise their children – adults are welcome to join in and explore, create and watch too!
You can keep up to date with Darwen Town Centre events by checking the Event Calendar, signing up to our newsletter, and by following Darwen Town Centre and Darwen Market on Facebook.
We'd love to see your photos from these activities, please tag Darwen Market and Shop Darwen on Instagram and Facebook if you're able to. 
See you soon!