Warm summer days go hand in hand with family fun, and there's lots to look forward to this summer in Darwen Town Centre! Our market square is the ideal place to enjoy family events and entertainment in the sunshine.
Here's three upcoming dates for your diary…

Sunday 25th June – Blackburn and Darwen Band Festival of Brass 2023
Blackburn & Darwen Band's legendary Festival of Brass will be taking place on Sunday 25th June on Darwen Market Square. This will be the 8th annual edition of the popular event.
Twenty one talented brass bands from Lancashire and Yorkshire will be taking part so there'll be an abundance of live music to enjoy.
The Festival of Brass will start at approximately 12pm on Darwen Market Square and is a great event for all ages.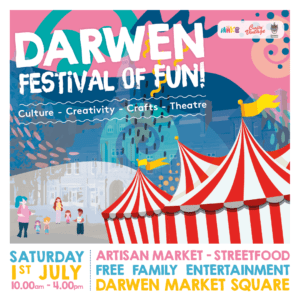 Saturday 1st July – Darwen Festival of Fun
Darwen Festival of Fun returns to Darwen Market Square on Saturday the 1st of July.
This fantastic free event is sure to keep the whole family entertained with everything from walkabout performers to giant bubbles, live music and more.
They'll also be a vibrant Artisan Market showcasing the creations of several talented makers, along with delicious street food and a vintage bar.
This colourful event will take place from 10am till 4pm.

Friday 14th & Saturday 15th July – Scooters & Soul Under the Tower
This is a brand new event brought to Darwen by Screaming Dead Scooter Club and East Lancashire Soul Club.
Along with live music across several Darwen venues, there will be a Memorabilia Market on Darwen Market Square from 10am till 5pm. Browse the stalls, admire the scooters and enjoy the great atmosphere in Darwen Town Centre.
More information about this event can be found here.
Spread the word with family and friends about these upcoming events, and be sure to get the dates in your diary!
Subscribe to our newsletter and follow Darwen Town Centre on Facebook to be the first to know about new events over the summer.
We look forward to seeing you soon on Darwen Market Square!