Trick or treating may be off the cards this Halloween, but there's still plenty of things you can do in and around Darwen this weekend to get into the spooky spirit, while following Covid guidelines. From exploring a creepy and historical location to Halloween fun and games at home, have a read to get some eerie inspiration!
Take a walk to The Well House at Hollinshead Hall
This mysterious and atmospheric building is located a couple of miles south of Tockholes and can be walked to from Darwen. Some believe the Well House to be of medieval origin, whereas others say it dates from the 18th century. Either way, it's been around for a long long time and has heard many conversations and seen many things!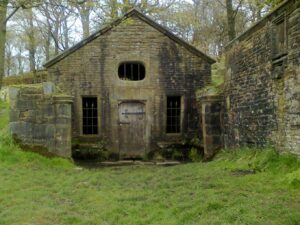 The original purpose of the Well House is also disputed – wells and springs were viewed as special and magical by pagans, and were later seen as Holy by Christians. It's possible that the Well House was built as a catholic baptistery, and it's been suggested that the name "Hollinshead" comes from "Holy Head" and refers to the well. Legend has it that the water has miraculous healing properties for eyes, and consequently that the Well House would have been visited by pilgrims.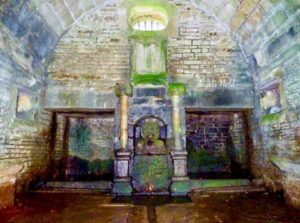 As well houses go, it's fairly grand, and it's half sunken position and carved stone lion's head give it character. Many say that the Well House has a mysterious atmosphere, and there are several creepy stories about the building online. Whether it's home to supernatural activity or not, there's no denying that a peculiar and ancient structure like the Well House has a slightly mystical vibe, having lived through times far before our comprehension – making it a great area to visit on Halloween. The Well House is around a three mile walk from Darwen town centre, or you can park at Roddlesworth Information Centre – more info how to find the Well House here and here. Thank you to Angela Neild Photography for allowing us to use her wonderful photos of the Well House.
Create a chilling tale or picture inspired by the Pendle witches
We're sure you're already somewhat familiar with the history of the Pendle witches, but to recap: In the 16th/17th centuries, Lancashire was viewed as a wild and unruly place. There was a great deal of fear and paranoia around at the time, and in 1612, twelve local people were accused of witchcraft. The majority were found guilty during a trial at Lancaster castle, and ten were cruelly executed on the Pendle moors… many believe the ghosts of the Pendle witches to still exist in the area today. Why not do some research on the witches and use the tragic tale as inspiration for your own spooky stories or artwork? Or use the untamed moors and forests of Lancashire as your inspiration instead – did you know that the forests of Lancashire were some of the last areas in England to be home to wolves?
Simple Halloween fun and games
There are tons of how-tos online when it comes to easy Halloween crafts – our favourites include spiders made from pipe cleaners and edible mummies made from hotdogs and pastry. Simple games to do at home include a creepy guessing game where you have to feel a mystery item concealed in a box to guess what it is – even if it's the most commonplace of items, the unknown factor can really make this a jumpy one! Even more so if you add some sensory surprises in the box such as tissue paper and bubble wrap or dried food such as pasta and rice. Another easy game requiring little equipment is making a large spider web out of a ball of wool – this would work well in the garden or back yard. The challenge is then to get through the web without touching it. Alternatively, donning you best Halloween outfits and going for a stroll and explore around one of Darwen's wonderful parks or outdoor spaces, such as Bold Venture Park and Sunnyhurst Wood, is always a winner. Use your imagination and turn Darwen Tower into a haunted house, look for a Loch Ness style monster in Earnsdale Reservoir, and try to avoid touching the tentacles of giant scary shrubs in Bold Venture Park.
We hope this blog has helped to get you in the Halloween mood – whatever you get up to this weekend, please stay safe and make sure you're sticking to Tier 3 guidelines, they can be found here. We'd love to see how you celebrate this Halloween safely, send us your photos on the Darwen Town Centre Facebook page.
Happy Halloween!