One thing we're not short of in Darwen is green space. Nature is a constant reminder here – most views in Darwen feature an impressive hillside in the background, or a beautiful park in the foreground.
Wild One Adventures is a small business with the mission of encouraging the local community to connect with these outdoor spaces and love where they live. Owner and founder, Louise, hosts a range of events, from magical outdoor activities for toddlers, to wellness sessions for adults, and Darwen is the perfect location for such events. 
We love to spotlight local businesses and entrepreneurs on the Darwen Town Centre website, so we caught up with Louise to find out more about Wild One Adventures and how it all began.
An abundance of outdoor skills
Born and bred in Darwen, Louise is an outdoor education instructor and health and safety adviser with a degree in psychology. She previously worked on the shore of beautiful Coniston Water in the Lake District, where she achieved qualifications in sailing, kayaking, mountain walking and climbing, and developed her outdoor skills.
Her love of nature then took her much further afield, when she travelled and worked in the outdoors in Australia, New Zealand and Japan, living in a bus and gaining invaluable experience. But after satisfying her wanderlust, Louise felt drawn back to her hometown of Darwen, where she wanted to bring up her three children. 
Filling an important gap for Darwen families with Wild One Adventures
As a mother of young children in Darwen, Louise realised that there was a lack of outdoor groups and organised activities for little ones. Darwen has an abundance of wonderful parks, woods, greenery and outdoor spaces, and Louise felt that she could take advantage of this and her wealth of experience to fill this gap for Darwen families.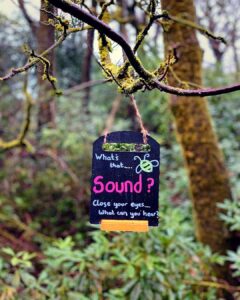 Wild One Adventures was created to encourage local families to develop a deeper connection with the outdoors, while having fun, learning, and appreciating where we live. Louise is also a huge believer in the physical and mental benefits that spending time amongst nature can have.
Outdoor sessions for children and adults
The first Wild One Adventures sessions were the magical woodland themed adventure sessions for 0-5 year olds and their parents/carers. Louise told us how seeing children being present and enjoying nature, whatever the weather, is magical in itself, and a huge reason why her business is so rewarding. The children's sessions incorporate story time, face painting, snacks around the fire pit, music and more, all in a stimulating outdoor environment.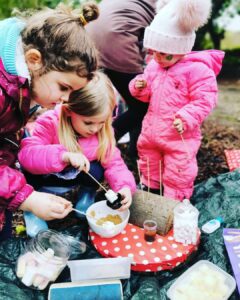 From there, the adult wellness sessions were devised, where Louise uses nature to help ground participants and encourage them to reconnect with themselves in a peaceful outdoor setting, which Louise feels is important in the fast paced and often disconnected society we live in. Taking things back to basics and reconnecting with nature can help us deal with the stresses of the modern, technically heavy world. Participants relax in hammocks, focusing on the sounds of the woods, and can enjoy a hot drink around the campfire. It's also a great way for those taking part to make new local friends and meet like-minded people.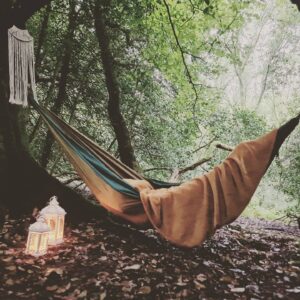 The future of Wild One Adventures
Future plans for Wild One Adventures include expanding the outdoor adventure sessions that Louise has been hosting for Darwen primary schools, and creating accessible sessions aimed at local children with various disabilities. She also plans to provide stand up paddle boarding sessions on local waterways – how exciting does that sound!? 
Using Darwen's beautiful green spaces to create a unique business
We really admire how Louise has used her skills, experience and love of the outdoors to create a successful business which is such a great resource for many Darwen families. The Darwen community is very lucky to have stunning outdoor spaces to explore and enjoy on their doorstep, and Wild One Adventures allows Louise to use Darwen's unique setting to her advantage, while helping others to get joy from local nature… it's a true win-win! 
You can find out more about Wild One Adventures and their upcoming events on Facebook and Instagram.