Let's Make's brand new programme of free children's events has begun! The events are all taking place on Darwen Market Square, with most happening between 12pm and 3pm (check poster below). Activities range from Magical Story Jars sessions, circus workshops, dancing, face painting and more – there's certainly something for every child to get involved with. We know it can be tricky to keep kids entertained throughout the long summer holidays, and we hope these fabulous free events will help you out.
There's no need to book, just come down and join in. If your child would like to get involved in Darwen's Got Talent, please register here.
The feedback we've seen so far on social media has been fantastic (thank you to @nerdishmum on Instagram for allowing us to use your lovely photo!), and it's brilliant to see the Market Square being used and enjoyed. If your children take part in any events, please tag Darwen Market in your photos on social media, and please follow on Facebook and Instagram.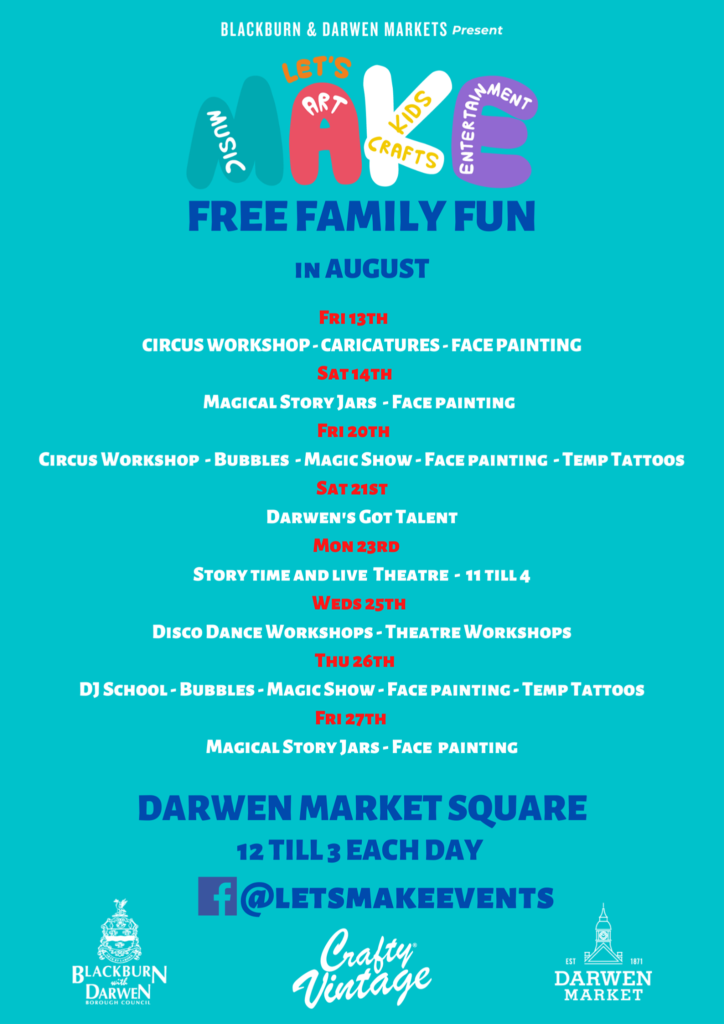 Make sure you take the opportunity to see what Darwen's town centre businesses have to offer while you're out and about. Pop into Darwen Market for everything from quality meat, homemade pies, ready meals and desserts, a large selection of cheese and deli items, pet supplies, gifts and more. Darwen Market is also home to several brilliant service based businesses, such as The Cobblers, Gold & Times (jewellers), Stitch (alterations and repairs) and Percival Pictures (framing), so remember to bring your bits and bobs with you and get everything ticked off your to-do and to-buy list in one fell swoop!
And no afternoon at Darwen Market is complete without a drink and something tasty in one of the market's many cafes. There's plenty of choice for children, too.
Shopping locally is a great way to support your local community, and feel good about where you're spending your money. Every little really does help, and if we all spent a little more at independent businesses, it would make a huge difference.
The majority of Darwen Market traders are also #shopdarwen businesses. If you spent £5 or over at a Shop Darwen participant, make sure you ask for an entry form for the prize draw. Fill it out and post it in the postbox in Darwen Market Annexe, and you'll be in with a chance of winning. The prize is £50 worth of vouchers to spend in Shop Darwen businesses… so definitely worth entering! Find out more about the campaign here, and check out the Instagram page.
There's lots more events to look forward to in Darwen, including free theatre, exciting fundays, outdoor markets and more. The best way to keep up to date with what's going on is to bookmark the events page and check the calendar. We also advertise events on the Darwen Town Centre Facebook page. If you see an event that sparks your interest, please share with your friends and family (in person and on social media) – it helps us out a lot.
We hope to see you very soon at a Let's Make family fun event!