Darwen is home to several fantastic independent online businesses, in addition to our local shops, cafes and bars. One of which is Little Red Interiors, a lifestyle and home interiors online store which sells a carefully chosen range of items for your home, all from quality brands. Little Red Interiors is owned by proud Darrener, Georgina Dearden, from her cottage in Darwen. We had a chat with Georgina to find out more about her and the business. 
Georgina's interest in all things to do with making a house a home began around eight years ago, when she bought and renovated her first cottage at the young age of 22. She caught the renovation fever and moved again not long after to renovate another Darwen cottage. If you follow Little Red Interiors on Instagram, and there's a good chance you might, as Georgina has grown the account to an impressive 15.4k followers, you will know that Georgina, her husband Rob and their two adorable Penelopes (their Yorkshire terriers), moved again last September, to their "forever cottage" ( forever for now anyway!). This renovation was their largest yet – make sure to take a look at Little Red Interiors on Instagram and Facebook to take a look.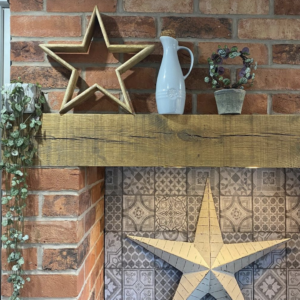 It's clear from her social media accounts that Georgina is genuinely passionate about interior design. In addition to seeing new products available in the store, followers gain lots of home decor inspiration from her posts. Georgina told us how she has always had an eye for decor and details around the house, and loves nothing more than having a swap around at home – whether it's updating a few corners to give them a seasonal vibe, or a larger project. Little Red Interiors is the perfect way for Georgina to exercise her love of styling and decor, and nurture a successful business venture in the process. Georgina is also currently studying floristry at Myerscough College to expand her skills even further – she loves to bring new ideas and creativity home (and to her social media) each week, and jokes that it also helps to keep her eyes away from the housing market!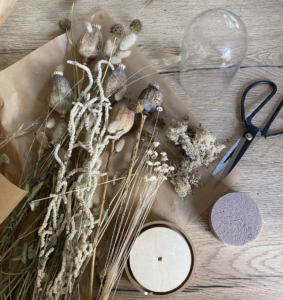 Georgina uses her own taste and eye for design when choosing the products available to buy from Little Red Interiors. Most items are best suited to a cottage or traditional home – which we certainly aren't short of in Darwen and the surrounding areas. While she loves to style the items herself, there's nothing Georgina loves more than when customers tag her in their photos of products in-situ in their own homes. 
As a proud Darrener, Gerogina regularly refers to the local area in her Instagram stories, including local businesses she's bought from and walks she's been on with husband Rob and the Penelopes. From being active on the Little Red Interiors Instagram and within the social media community of Darwen independent businesses, Georgina has made connections with fellow small businesses and entrepreneurs, including Maria Grieco from Dinner at Maria's, who we have also featured recently.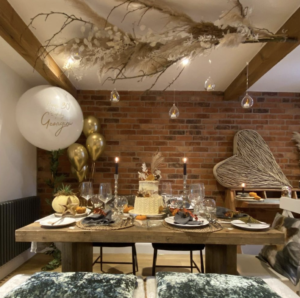 Georgina and Maria have paired up to create beautiful dining experiences for people in Darwen and the surrounding areas, in the comfort of their own homes – Maria provides the food, and Georgina provides the ambiance by styling your dining table using her expert eye for design and for making perfect finishing touches. This project has had to be paused due to current Covid regulations, but as soon as restrictions allow, it'll be back up and running, so keep your eyes peeled if you fancy enjoying a restaurant quality experience without having to take your slippers off!
It's great to see local entrepreneurs thriving and making great connections with other local independent businesses – next time you want to spruce up your home or buy a lovely gift, why support a Darwen business and take a browse of Little Red Interiors? 
Thank you to Georgina for chatting with us! 
If you'd like to be featured as a local entrepreneur on this blog or on the Darwen Town Centre Facebook (or know someone who would) please send a message to the Facebook page.