Raising money for a brilliant cause and underlining Darwen's wonderful community spirit… that's exactly what Laura Jenkinson, owner of Sweet Vintage, is doing by raising money for Macmillan Cancer Support via her Mighty Raffle and Mighty Hike. 
We love to shout about the great things that Darwen Town Centre businesses are doing, so Laura's mission certainly caught our attention! Keep reading to find out how you can get involved. 
A Macmillan Mighty Hike in the Yorkshire Dales
It all started when Laura and her husband, Paul, chose the extremely worthy cause of Macmillan Cancer Support as their charity of the year, both in their personal lives and via Sweet Vintage. They decided to take part in a Macmillan Mighty Hike, which is certainly mighty, and not just your typical weekend countryside stroll! 
Signing up to a Mighty Hike is a big commitment. The trek will see Laura and Paul walk a whopping 26 miles across the stunning Yorkshire Dales National park on Saturday 3rd July (that's the same length as a marathon), and will take up to 12 hours. 
It's a real test of endurance due to the hilly terrain – Laura told us that in some sections, you are walking literally in the River Aire, and it's more of a scramble than a hike. Laura and Paul have spent their Sundays training and building up their stamina, you may have seen them out and about, or Laura breaking in her new walking shoes while serving customers at Sweet Vintage.
Mighty Raffle donations from Darwen businesses
Mighty Hike walkers must pledge to raise £250, and to raise these funds, Laura decided to create an equally as mighty raffle, and give generous donors the chance to win some excellent prizes. Laura asked local businesses to kindly donate said prizes, and they have certainly delivered.
Local businesses of all shapes and sizes have got involved, and in doing so have demonstrated their kind hearted and community minded nature. Several Darwen Market traders have donated, including Deli Carlo, Budapest Langos, Turners, Gold & Times, Rushton's, Making Memories Haberdashery, Steff's Pets, and Woods Fruit & Veg, and several Shop Darwen participants have also taken part.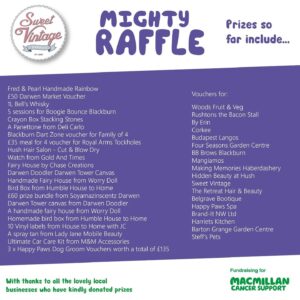 And not only have established local businesses donated, but several "solopreneurs" and home-based ventures have also kindly provided a prize, including Fred & Pearl, Worry Doll and local artist Curly 738. It's been lovely to see Darwen businesses supporting each other and giving to such a great cause. 
Raising money for an extremely worthy cause
Macmillan is dedicated to supporting those affected by cancer. From emotional support and financial support, to clear information on cancer and specialist Macmillan nurses, their work is invaluable. The pandemic made it difficult for charities such as Macmillan to host fundraising events, so it's fantastic to see the success of Laura's and Darwen business's fundraising efforts. We should be very proud of our community.
Make sure you check our the Sweet Vintage Facebook page for the most up-to-date list, as more prizes are being added pretty much daily!
Get involved
Laura is taking donations right up until the raffle draw on Sunday 4th July, so if you're a local business who would like to get involved, please get in touch via the Sweet Vintage Facebook page. 
You can buy raffle tickets either in store at Sweet Vintage, or via their online shop. Laura's family will also have a raffle ticket stall on the Market Square for Darwen Day on Saturday. So far, Laura and Paul have raised £1229 to date, beating their initial target of £500, and there are still a few days to go! Please buy some raffle tickets if you are able to, and let your friends and family know, too.
We wish Laura and Paul the very best of luck for Saturday.